Perfectly Roasted Coffee, Delivered
Get freshly roasted café quality coffee delivered to your door!
Shop Freshly Roasted Coffee by Hoboken Coffee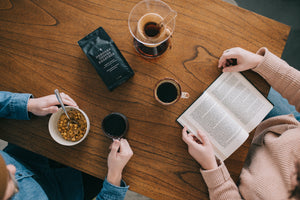 Perfectly Roasted, Delivered
Hoboken Coffee has spent years mastering the process of sourcing and roasting ethical and delicious coffee! Get fresh, perfectly roasted coffee delivered right to your door! 
Try Our Coffee
Meet Your Roasters
We got serious about starting a coffee company within the first few months of our marriage. We launched Hoboken Coffee Roasters in December 2012 after discovering and immersing ourselves in the coffee culture of the Pacific Northwest!
Learn About Our Story
Visit Our Coffee Shop & Roastery
224 S Division St.
Guthrie, OK 73044
(405) 760-3034
Hours:
Monday - 7AM–6PM
Tuesday - 7AM–6PM
Wednesday - 7AM–6PM
Thursday - 7AM–6PM
Friday - 7AM–6PM
Saturday - 8AM-6PM
Sunday - Closed